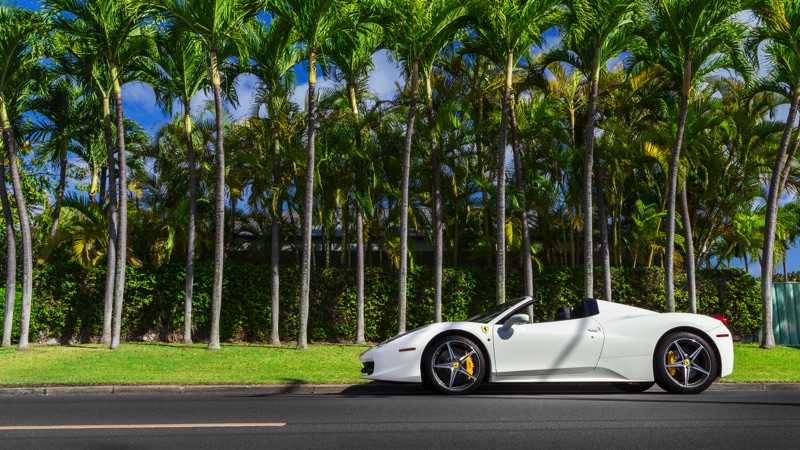 Here at Velocity Honolulu, we know how important it is to depart from your everyday commute. Even taking in the same beautiful sights in Hawaii, day after day can create complacency, but the members of the Ferrari Club of America's Hawaii Chapter set out to revive their appreciation for the beautiful island of Oahu.
The Ferrari Club of America (FCA) Hawaii Chapter enjoyed a scout and drive event over the summer, taking in some of the most scenic views on the island in some incredible cars.
First, four members of the club scouted the route, which comprised smaller roads that dipped and curved through the valleys and across the hillsides between Kaneohe and Turtle Bay. After the President of the chapter mapped out the route using Google maps, these four members explored the area, driving through residential areas, through the valley communities, and getting up close and personal with the Koolau mountain range. Taking in these new views reminded them about the diversity and splendor that Hawaii has to offer.
After stopping at Lei Lei's for lunch, the group continued up to the top of the mountain, where they were awestruck by the view.
The following month, two groups of enthusiasts met up at Ho'omaluhia Botanical Gardens, where they had a photo shoot and discussed the planned route. Then, the convoy of eight Ferraris, three Lamborghinis, and a McLaren made its way through the Windward communities before stopping again at Lei Lei's for a bite to eat. Once back on the road, the drivers drove through the winding roads, up to the peak of Pupukea, before ending their excursion in Haleiwa.
For a chance to see some of the best views on the island from the seat of one of the most remarkable cars in Hawaii, visit us online, stop by today, or give us a call to schedule a test drive.