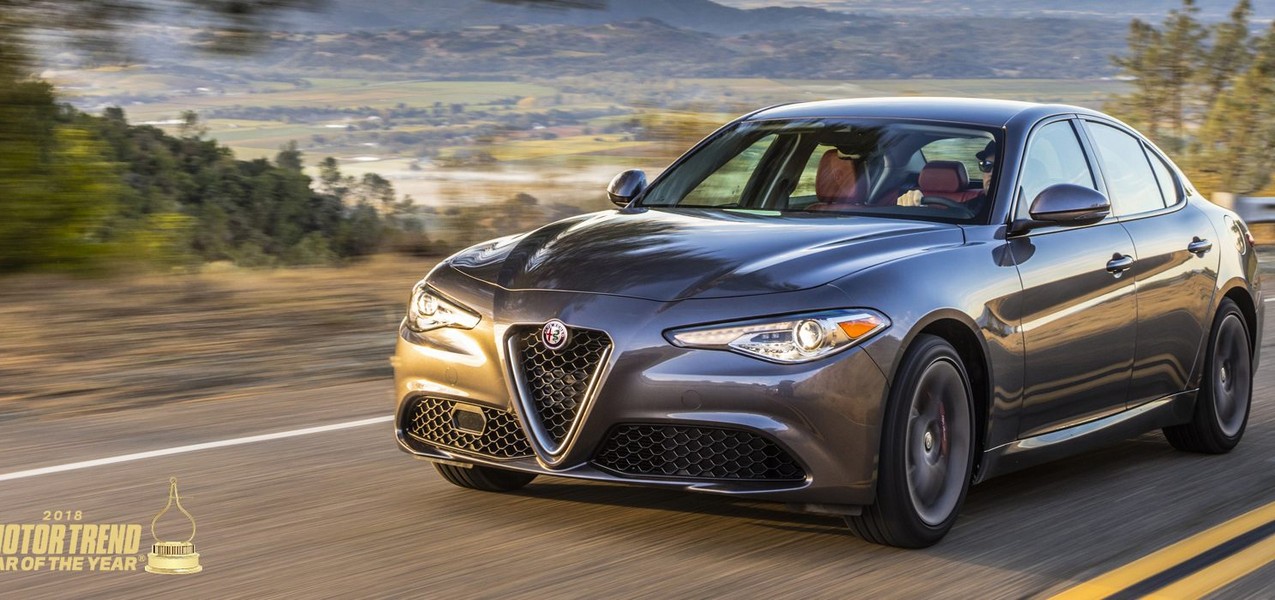 The Alfa Romeo Giulia has been officially named Motor Trend's 2018 Car of the Year. With its sleek and stylized exterior, driver-centric custom interior, and incredible racing engine, this sporty sedan is the perfect luxury car for the track—or the city streets.
"Best steering, best chassis—this car saves the sport sedan market," says guest judge and former Ford and Chrysler product development executive Chris Theodore. "It was the only car that said, 'You're in charge. You want to be nice and tidy, I can be tidy. You want to be crazy and drift me wild, I'll be right there with you.'" Theodore adds, "You fall in love with it."
Winning features of the Giulia
The Giulia's award-winning interior for 2018 follows the high-quality aesthetics of true Italian style. Beautifully applied metallic accents and artistic lines, delicate white stitching on the black IP and upper door trim, outstanding build quality, and an intuitive control screen all work together to complement the Giulia's design.
The standard powertrain for the Giulia is a 2.0-liter turbocharged four-cylinder with 280 hp and 306 lb-ft of torque paired with an eight-speed automatic transmission. The top-of-the-line Quadrifoglio variant has a twin-turbocharged 2.9-liter V6 under the hood, developed with help from Ferrari. It produces an astounding 505 horsepower and 443 pound-feet of torque, making it the most powerful production Alfa Romeo engine ever.
The vehicle also comes equipped with a fairly generous complement of standard features, including 17-inch alloy wheels with all-season tires; Bi-xenon projector headlights with LED daytime running lights, taillights and ambient lighting; a 7-inch TFT info screen; and a 6.5-inch radio screen with voice recognition that includes AM/FM/HD Radio™, Bluetooth®, and an eight-speaker audio system.
"It handles absolutely beautifully, with light, linear sports car–like steering," Motor Trend features editor Christian Seabaugh says. "It rides like a luxury car with no impact harshness in the cabin, and it's downright quick. This is a car that puts a smile on your face."
Velocity Honolulu is compelled to agree.
---
Check out the award-winning Giulia at Velocity Honolulu and you, too, will be impressed with all it has to offer, inside and out. Schedule your test drive today.
Image Credit: Alfa Romeo