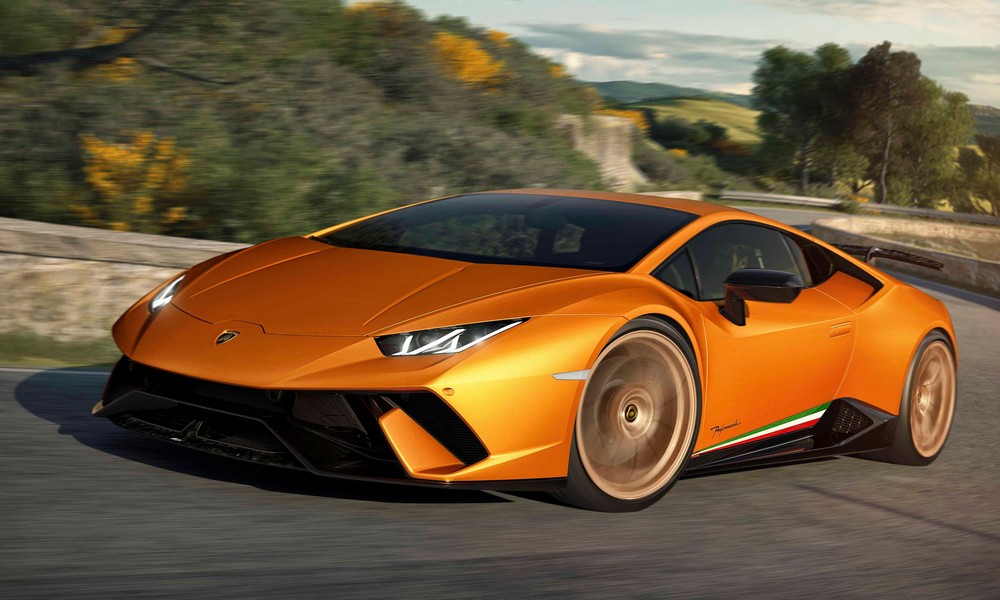 Overview
What do you get when you take the quintessential Lamborghini and turn the dial to 11? The answer is the just-this-side-of-insane Lamborghini Huracán Performante, a high-performance variant that puts competitors to shame. The Huracán Performante has already cemented its legacy by setting a new production car record of 6:52:01 at the Nürburgring Nordschleife, but crazy speed is only the start of why this model is destined to go down as the next classic Lamborghini model.
The Perfect Ride for…
Supercar enthusiasts who are tired of the usual "special editions" that many competitors trot out on a regular basis. The Huracán Performante is no simple reskin, but a completely retooled variant that is sure to leave a lasting impression. We're not the only ones who think so—the Huracán Performante also won the Autocar Innovation Award for 2017 for taking "dynamic handling to a new level."
Drive & Handling
The enhanced, naturally aspirated Huracán Performante engine is the most powerful V10 ever produced by Lamborghini, delivering 640 hp at 8000 rpm and producing approximately 442 lb-ft of torque at 6,500 rpm. The seven-speed dual clutch transmission has been optimized to match the increased performance.
The Huracán Performante is equipped with a double wishbone suspension system that delivers the optimum balance between usability and performance. Lamborghini also offers an optional system of magnetorheological shock absorbers that instantaneously adapt to driving style, road conditions, and driving dynamics.
Next-gen Electronic Power Steering complements the responsive suspension with a system that adapts to your individual driving style. The Lamborghini Dynamic Steering (LDS) system, allowing you to dynamically adjust steering ratio, is also available.
Key Features
Lightweight Design
Lamborghini is known for weight-saving approach to vehicle construction, and the Huracán Performante is no exception. Produced from aluminum and Lamborghini's award-winning Forged Composite, the body of the Huracán Performante maintains optimum rigidity while remaining lightweight. Forged Composite is used extensively in the front and rear spoiler as well as the engine bonnet, rear bumper, and aerodynamic diffuser.
HMI
The updated instrument panel of the Huracán Performante is designed to convey the supercar's performance spirit. Shifting into CORSA mode brings the tachometer and gear indicator into the center view a la a race car dash. Apple CarPlay™ is available, allowing you to pair your iPhone and access your favorite apps directly on the instrument panel. The optional Lamborghini Telemetry System allows you to record and analyze your driving performance.
Alternative Options
If you're a newcomer the Lamborghini brand, the base Lamborghini Huracán is an excellent option. Lamborghini has also refreshed another mainstay in the form of the Lamborghini Aventador S. With a 730-hp V12 and a new four-wheel-steering system for tighter turns at any speed, the Aventador S seamlessly blends unprecedented power with the sleek, sexy design for which the brand is known.
Gallery

Image Credit: Lamborghini